2018 Dan Fulwider Award for Community Involvement
Ryan and Amara Kyes have always had a heart for the community. They do their best to help everyone they know and spread joy. They give back in every way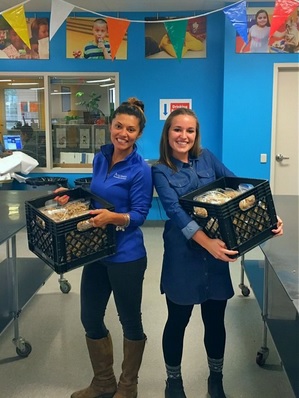 possible and they've now passed on that dedication to their daughter's as well. The Kyes family are the perfect example of the giving and caring that this world needs.
Dan Fulwider was a man of selflessness and giving spirit. He has since passed, and now has an annual award for $2500 (to be given to a charity of the recipients choice) for someone who has shown a passion and dedication for community service. The recipient will also be recognized at the 2018 Big "I" Legislative Conference & Convention in Washington, D.C.
We are proud to announce that Alliance Financial & Insurance Agency has won the 2018 Dan Fulwider Award for Community Involvement, and will be donating the $2,500 to Kid's Food Basket!
The Kyes family have a passion for Kid's Food Basket. Before Ryan adopted his four eldest daughters, they were often fed by Kid's Food Basket. They weren't able to always find food in their home in downtown Grand Rapids so Kid's Food Basket was a huge blessing to them.
Once they were adopted by Ryan and Amara Kyes, they felt blessed by what they had so they decided to start volunteering to give back all of the blessings that they had received. Little did they know, they were packing the same brown paper bag's full of food that they had once been receiving. Phalesha Kyes has even gone to help deliver the brown paper sack dinners herself. 
 The Kyes family have always been huge supporters in the Lowell/Grand Rapids area. Alliance has generously been sending employees to volunteer at Kid's Food Basket and will continue to do so in order to give back to the organization that once gave so much to their daughters, before they were able to adopt them.
Watch Phalesha's story at https://www.kidsfoodbasket.org/videos/
You can also watch her tell her speech from the Annual Feast for Kids on our Facebook page at https://www.facebook.com/allianceins.agency/
Her speech really gives a lot of insight as to just how generous the Kyes family is and the importance of Kid's Food Basket. Check it out today!
Alliance has been so honored and humbled, to have received this award and we're looking forward to using this reward to help Kid's Food Basket give as many sack suppers as they can!