Home Insurance in Michigan
Purchasing a new home in Grand Rapids, MI is an exciting experience and a lifetime investment you can ever make. The excitement and happiness that you and your family have the new home may come at a cost in case you don't remember to protect it. With so many activities to handle and the desire to sit down and enjoy your achievement, home protection can sometimes take a backseat.
However, you will need a home insurance policy when things go wrong. At Alliance Financial & Insurance, we provide client-friendly home insurance policies in Michigan. We are dedicated to protecting your new home from unexpected uncertainties. Our home insurance policy covers the following;
Personal Belongings
Alliance Financial & Insurance home policy covers all personal belongings such as furniture, clothing, and sports equipment in your home against theft plus any other covered event. Our home policy also covers off-premise property that is located anywhere in the world and valuables such jewelry, silverware, and furs. We also protect scrubs, trees and other plants that are within your compound.
Home Structure Coverage
As a homeowner in Michigan, you never know when a disaster will strike, and you may be rendered homeless if you lack a home insurance policy. We will be there to support you when fire, lightning, hurricanes, or any other disaster damages your home. We will recover all you have lost and provide a decent place which you will refer to as your home. We also protect separate home structures such as garages and sheds that are attached to your house.
Liability Protection
Our home insurance policy also covers you against bodily injury or property damage that may be caused by individuals who stay with you. This even includes damages that may be caused by domestic animals such as your pets.
There will be no need to worry if your young daughter or son destroys your neighbor's expensive glass doors or television since all this is included in our home insurance policy. We also protect the cost of defending you in court, and we will be there to settle any type of court awards that may result from court processes.
Are you a homeowner in Grand Rapids, MI? Contact us today for a home insurance policy.
DO YOU RENT?
Then You Need Renters Insurance!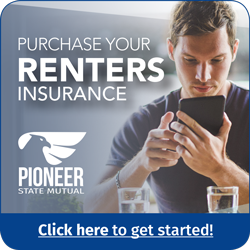 Renters Insurance is an affordable way to protect your Personal Property.
A basic Renter's policy protects:
Personal Property - replacing all of your "stuff"
Liability - in case you are sued
Loss of Use - if your apartment is "unlivable" due to a covered loss, we pay to have you stay somewhere else
A Renters Insurance policy could save you hundreds on your auto policy with the Multi-policy discount!
And get this... it could only cost you
$10 per month!