Thanksgiving 
Happy Thanksgiving, everyone! It's that time of year! Football is on and we're all eating delicious, home cooked meals, surrounded by our closest family and friends. While remembering how thankful we are for the lives we've been given, it's important to reflect back on these things. Often we remember the bad things much more distinctly than we remember the good things. Really focus on all of the times that you've smiled and how much you've been blessed by the people around you!
What better way to celebrate, than by gathering around some Thanksgiving classics. Turkey, mashed potatoes, rolls, corn, ham, cranberry sauce, casseroles, and pie! Because we are thankful for you, we've provided you with a recipe for some tasty pumpkin pie. As seen on allrecipes.com we have the delicious pie here below, enjoy!
Perfect Pumpkin Pie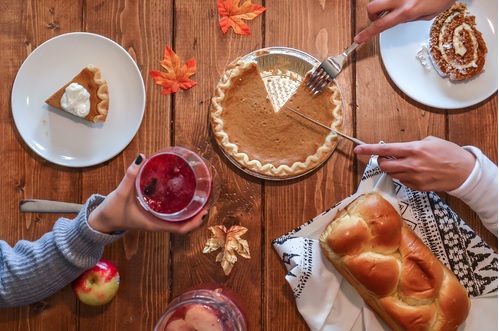 1 (15 ounce) can of pumpkin
1 (14 ounce) can of sweetened condensed milk
2 large eggs
1 teaspoon ground cinnamon
½ teaspoon ground ginger
½ teaspoon ground nutmeg
½ teaspoon salt
1 (9 inch) unbaked pie crust
Preheat oven to 425 degrees F. Whisk pumpkin, sweetened condensed milk, eggs, spices and salt in medium bowl until smooth. Pour into crust. Bake 15 minutes.
Reduce oven temp to 350 degrees and continue baking 35 to 40 minutes or until knife inserted 1 inch from crust comes out clean. Garnish as desired.
This pie is only to be eaten with good company and in a peaceful environment!
Alliance is so grateful for each and every one of you and we appreciate your business. There's nothing we love more than helping protect our community. Have a lovely Thanksgiving and Happy Black Friday Shopping, everyone! 
What's your favorite part of the holidays?